Drone Services Provided For The Oil & Gas Sector:
Offshore oil and gas drone inspections.
Onshore oil and gas facilities inspection.
Flaring operation and flare boom drone inspections and drone pipeline monitoring.
UAV oil pipeline inspections and surveys.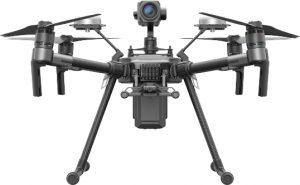 The Matrice 210 RTK features Real Time Kinematic GPS positioning for up-to-centimetre accuracy. This also has the added benefit of protecting the aircraft from strong RF / EMF interference such as power lines, radio towers, etc.
This added functionality comes alongside all of the features that you get from the Matrice 210, the mid-range M200 series model, making this the premium choice for professional users.
This RTK data is directly linked to DJI's sensors (selected payloads) allowing for geotagging of imagery.
Heliguy are the only UK enterprise repair centre trained by DJI to offer repairs and support for the DJI Matrice 200 Series.
The eBee SQ agriculture drone captures actionable crop data across four multispectral bands, plus RGB imagery, spanning hundreds of acres in a single flight.
Precise: The eBee SQ's precise, calibrated multispectral imagery provides reliable insights into the real health of your crops.
Efficient: The eBee SQ agriculture drone can cover hundreds of acres in a single flight for extremely efficient crop monitoring and analysis.
Compatible: The eBee SQ is compatible with your existing FMIS, ag machinery and workflow. There is no need to reinvent how you work.
The eBee SQ agriculture drone is available at a low, value-packed price that fits your farm or agronomy business' budget.
AUTONOMOUS DRONE FOR MAPPING AND SURVEYING
Cumulus V1 is an easy-to-use drone for precision agricultural mapping and surveying. The unmanned aerial vehicle is made from the best carbon fiber and kevlar, which makes it one of the most robust drone solutions for agriculture on the market.
Whether looking for a drone for photogrammetry or compiling GIS data, the UAV is fully applicable for both and offers a completely autonomous drone system for 3D mapping.
Once the mission planning is completed the aircraft is hand launched and will carry out the mission and return to base where it lands vertically (deep stall) with high precision.
Main benefits:
Flight Time 2:30h
Hand launched
Deployment time <5 min
Dataset absolute accuracy: 1,5cm/4cm
Deep-stall landing within 10×10 m
Cumulus provides survey grade accuracy along with a credible UAV system. We maximize the operating time and thereby the profit, with a high accuracy drone at very competitive prices
When launch Cumulus V1 – the rest is taken care of. Our Data Management software makes geotagging easy, which provides fast results and an easy workflow from collecting to processing data.
Merit Technologies Sdn Bhd is involved in offshore pipeline repairs, with a primary focus on serving the Oil & Gas industry through innovative and cost-effective repair systems. Based near Kuala Lumpur, Malaysia, Merit Technologies Sdn Bhd specializes in the design, manufacturing and installation of pipeline strengthening and protection systems for offshore risers and conductors.